What Tocco Permanent Color Line is right for you!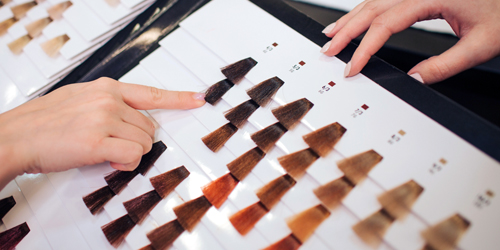 What Tocco Permanent Color Line is right for you!
Not every color scenario fits the same mold, therefore, Tocco Magico created three distinct permanent hair color lines to cater to the diverse world of style and fashion! Which one is the right for your client?
For over 50 years, Color-Ton Permanent Color has been the hero of the Tocco Magico color portfolio. Utilizing the highest quality ingredients, the performance of this permanent color is unparalleled. It's rich and opaque formula guarantees color consistency and 100% gray coverage with a unique 1:1 ratio for an enhanced color finish. The color formula is powered by a proprietary blend of 7 herbal extracts that are infused into the hair color molecule in a 5:1 ratio to restore, condition and protect the hair and scalp, leaving the hair soft, shiny and manageable. All 78 shades in the color-ton family are available in a 3.4 oz / 100 ml Tube.
Tocco Magico understands it is no longer enough to only dye hair; it is important to respect the integrity of the hair while doing so. Multi Complex Color meets the needs of the modern client and the professional hairstylist by featuring our "R.A.P." System for Reconstruction, Anti-Aging and Protection. It is also one of the first in its class to introduce a state-of-the-art permanent color with Eco-Certified ingredients like herbal tea extract and Hyaluronic Acid to promote guaranteed protection to the scalp and luminous shine to the hair. An exceptional 3D System is added to act as a "filler effect" releasing the actives inside the cuticle during the color service. The color portfolio has 70 shades in a 3.4 oz / 100 ml tube with levels that range from 1 to 9 and feature an assortment of high lift and super blonde shades with 5 levels of lift in our new Super Blonde series that provides 100% Gray Coverage. Multi Complex delivers luminous and dimensional results for the perfect balayage and color melt!
FREELUX is the innovative permanent hair color without Ammonia, PPD, Resorcinol, Petroleum derivatives and Allergens. With its "Free" philosophy, FREELUX gives the colorist and the client a zero-comprise option to a naturally derived color line. Freely inspired by nature, it respects the hair structure and the balance of the scalp. It's oil based creme color is infused with Tsubaki Oil, Olus Oil, Rosa Seed Oil, and Rice Oil to moisturize, soothe, and protect the hair. Micro color pigments which distribute inside of the hair fiber and the carefully selected active ingredients provide ultra-bright colors that are stable and long-lasting! This compact color line has 57 shades that provides up to 100% gray hair coverage, and up to 4 levels of lift with its High Lift Series in a 3.4 oz / 100 ml tube.
Tocco Magico strives to bring you a diverse portfolio for you to explore. We understand that style trends change, and the needs of a client does as well!