All the tools you need to "Craft your Artistry" with Tocco Magico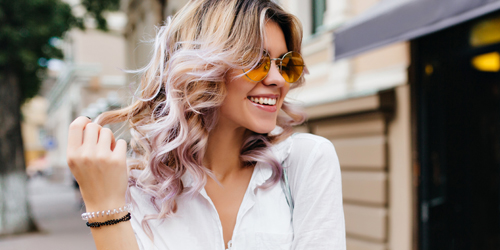 All the tools you need to "Craft your Artistry" with Tocco Magico
Stylist certainly are a breed of their own—creative, artistic, brilliant designers. They are designers, but in leu of a painting their canvas is hair. Stylists want to be inspired and motivated with new techniques and colors. Tocco Magico is the answer!
Tocco Magico has a diverse color portfolio to cater to your infinite creativity. Tocco Magico has 3 distinct permanent color lines formulated with eco-friendly technology with exceptional grey coverage and luminous finishes:
Color-Ton is known for its rich and opaque formula that guarantees color consistency and 100% gray coverage with a unique 1:1 ratio for an enhanced color finish.
Multi Complex is a state-of-the-art permanent color with Eco-Certified ingredients like herbal tea extract and Hyaluronic Acid to promote guaranteed protection to the scalp and a warm dimensional result for the perfect color melt!
FREELUX has an innovative formula without Ammonia, PPD, Resorcinol, Petroleum derivatives and Allergens while still providing 100% gray hair coverage, and up to 4 levels of lift with its High Lift Series!
The Tocco Magico Demi and Semi Permanent lines play a vital role to the color portfolio! RHOL is the ideal candidate for first-time clients, blending or for those looking for a softer result without any worry of demarcation lines! It's 33 intermixable shades are easy to customize, especially when toning, glossing, and filling in color.
If you're up for some extra fun, Color Switch is the perfect semi-permanent line that carries 11 fantasy shades to create bold, funky hues or softer, pastel shades. Its easy-to-use formula can be used in so many ways—add it to any existing color for more intensity or create your own cocktail of shades! PRO-TIP: Use the 0.00/Neutral to create your very own customized shades and truly craft your artistry!
The Delight Lightening System is the go-to tool to master any blonding technique! It's comprehensive collection of high-performance lightening tools takes blonding to the next level. The system has three lightening categories, developers that feature conditioning agents to protect the hair and one after-treatment that work synergistically together for uniform lift and personalized, predictable results.
De Light Decolor Cream is an ammonia-free, multi-use cream lightener that is great for highlighting, gentle lightening and gentle removal of artificial color or pigment.
De Light Universal Lightening Powder delivers 5-6 levels of lift and is formulated with violet pigments to control any unwanted warmth.
De Light Plus Power Lift Plus delivers 7-8 levels of lift and features blue pigments to reduce any unwanted yellow undertones.
"I have used multiple color lines over the years and have never found a company that can offer a variety of options all in one brand! Not to mention that they are the first herbal based company in the world and have over 80 years of innovation!" says Sarah Brink, the Education Manager for Tocco Magico.
If you want color that offers eco-friendly variety and consistency at an affordable price point with its 3.4oz/100ml tube size, your search has ended! Click here to shop Tocco Magico Color. For more information visit our Resource Center!
Craft your Artistry with Tocco Magico!